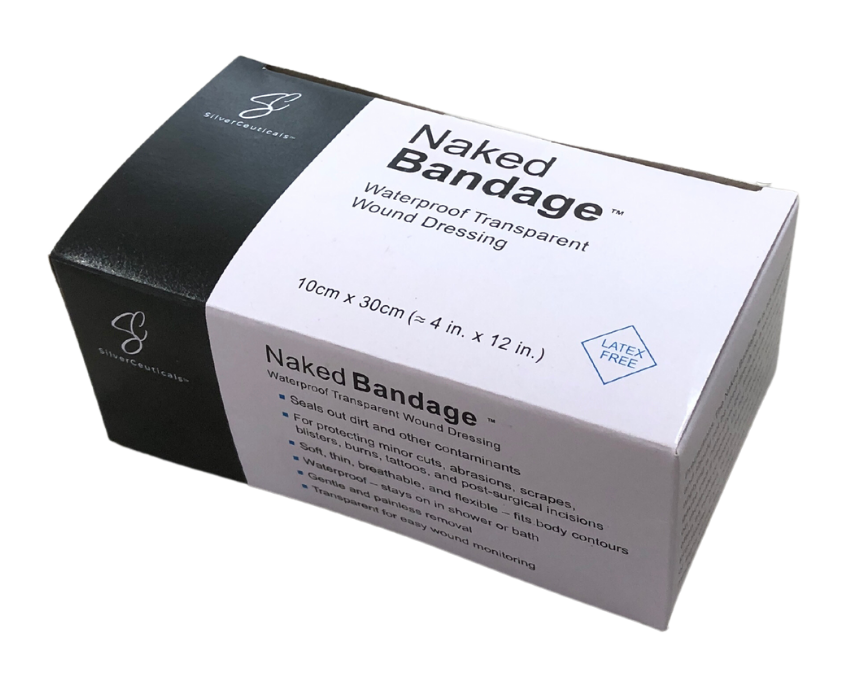 We are excited to introduce our latest product, the SilverCeuticals Naked Bandage™. We understand that bandages are an essential component of wound care, and finding the right bandage that is gentle, effective, and comfortable can be challenging.
The Naked Bandage combines all of these features and more in a waterproof wound dressing that is so advanced, flexible, comfortable, and transparent, it's like it's not even there. It is a one-way moisture barrier, meaning its waterproof from the outside, yet still allows moisture from the wound to escape, preventing skin maceration. The Naked Bandage can be used to protect minor cuts, abrasions, tattoos, burns, scrapes, blisters, and post-surgical incisions, or even help secure external medical devices.  It works best when used in combination with a Nano-Silver Gel. 
The Naked Bandage is hypoallergenic and suitable for all skin types, even those with the most sensitive skin. It has been carefully designed to provide a gentle and comfortable fit that stretches with your skin as you move, and will not irritate or cause discomfort.  Its greatest benefit may be that, unlike traditional bandages, the Naked Bandage is also gentle and painless to remove. Simply peel up a corner of the bandage, and pull gently. It will not pull hair like a standard bandage. 
We believe that the SilverCeuticals Naked Bandage is a game-changer in wound care. Its unique combination of flexibility, transparency, breathability, and painless removal make it an exceptional product that we are proud to offer to our customers. We hope that you will try it out for yourself and experience the difference that it can make in your wound care routine.
Thank you for choosing SilverCeuticals for your wound care needs.